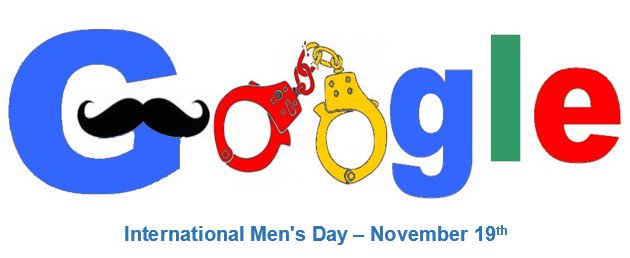 Google made Doodle for everyone, every festival, event but so far reluctant to make one on International Men's Day.
Why this Doodle?
G for Gender with Moustache (UK: /Moustache/; American English: mustache,) symbolize Men.
WHY HANDCUFFS? It's not just Handcuffs but broken Handcuffs, Handcuffs are restraint devices designed to keep someone under control, make him subordinate, dominate him, enslave him….. List is long.
We are not taking about other issues keep men under control but men's personal issues and biased Personal laws keep them under control, and we men want to break away from this.
Men are abused everywhere, Movies/Songs/clips/ADs are made abusing men but NO LAW to protect their interest nor anyone come on street in protest.
Men are raped / killed : if it's his Wife/Spouse/Partner that termed as she killed him in defense, If Raped, Law think men cannot be raped.
Forced Maintenance: Even Wife/Spouse/Partner runaway with her Lover Law force men to pay her, beg or borrow but Pay. Adultery women is not guilty but her husband end up paying her still.
Children Custody : Father(Man) Natural Guardian of Children, that's in Law books only, less than 2% Fathers are getting custody, even Women is Prostitute / Murderer custody is Given to Mother.
NOW MEN WANT TO BREAKAWAY FROM ALL THESE TABOOS AND STIGMAS that's what these broken handcuffs denotes.